How do I access IPTV on my computer?
This article has the simple steps on how to access IPTV from your computer. Below these steps you will also find some common troubleshooting steps to resolve issues you may run into along the way.
To access IPTV:
Verify your computer is directly connected to a network port via an Ethernet cable or connected to wireless.
Type iptv.liberty.edu into your web browser.
Click the Start Watching Now button.
You may get a Security Information pop-up asking if you want to run the application from Haivision Network Video; check the box next to Always trust content from this publisher or Do not show this again for apps from the publisher and location above, and click Run.
A separate "InStream" window will appear; this is your TV window.
Availability of IPTV
IPTV is available in the following locations:
Main campus
River Ridge
LMCC
701 TR
12th Street
Aviation
Field Ops (Mayflower, transportation)
Annex (Quality Inn)
Nationwide Building
IPTV is not available over VPN, or in these locations:
Danville
Sports Racquet
Farmville
Hydaway
Scaremare
Observatory
Florida
Troubleshooting common issues related to watching IPTV:
IPTV gets stuck Retrieving Guide Data or Waiting for Broadcast
An improperly configured firewall can cause IPTV to become stuck and not display video. Disable or uninstall your firewall to resolve this issue. Norton Internet Security, McAfee Antivirus/firewall and PC-cillan have been shown to be particularly problematic. As a reminder, Microsoft provides free antivirus software Windows Defender to all users running the Windows operating system.
"No broadcast available"
Turning the firewall off on your Windows/Mac computer should resolve the problem.
Check Network and Sharing Center for enabled VPN connections or VM connections (like the VirtualBox adapter) and disable the adapter.
My browser crashes when clicking Watch.
This can be caused by an out-of-date version of Java. Download the latest version of Java from
http://www.java.com
.
This can happen when the streaming video is not currently available on the network, or your computer system may not be receiving data through your connection. This can be caused by a personal firewall. If you experience this type of problem, verify that you have disabled any personal firewalls and that you are connected to a direct wired connection.
I am unable to watch IPTV when on my Mac
Newer versions of OS X (10.9 and newer) automatically run Safari in 64-bit mode, which is not compatible with IPTV. To watch IPTV, you need to install Firefox.
I am unable to watch IPTV on my VPN connection to Liberty or off-campus
Unfortunately, IPTV can only be viewed on-campus on a computer connected to the Liberty network. A VPN connection to the Liberty network off-campus will not work for watching IPTV.
I am being prompted to install/update java
Java is required to run the IPTV application. If your java is out of date, your browser may prompt you to update the software. In order to update java, please visit
www.java.com
and download the latest version. After installing java, you may refresh the IPTV page, and your programming should be available.
With the latest version of Java, you may also need to add IPTV to the Security Exception's list to ensure it works correctly. This can be done by opening the Java Control Panel from within the Windows Control Panel or Apple System Preferences. Then select the Security tab > Select Edit Site List > Select the Add Button > Type in http://iptv.liberty.edu > Click OK.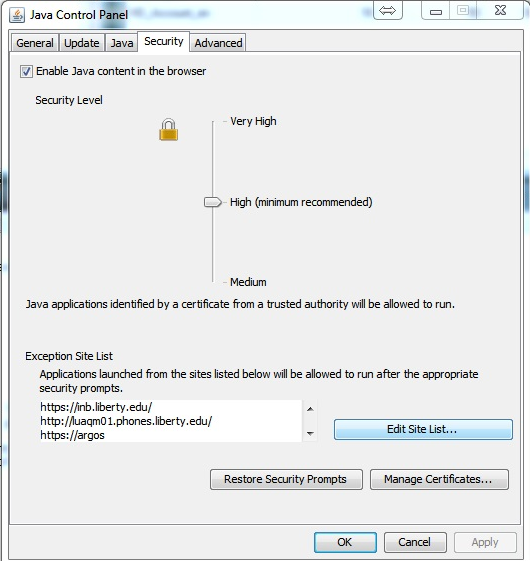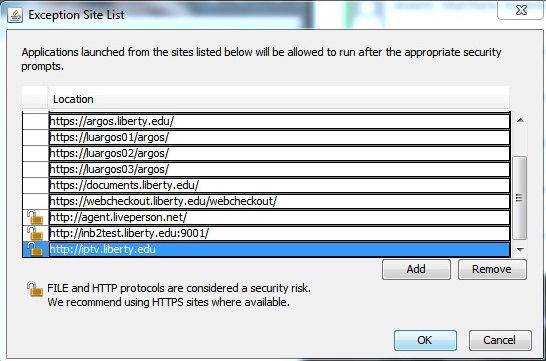 Internet Explorer or Safari is not allowing me to watch IPTV
Please try watching IPTV in an alternative, free web browser called Firefox. Internet Explorer and Safari may encounter issues and Firefox tends to work better overall for IPTV. You can safely download the Firefox ESR (Extended Support Release) browser directly from the publisher's website,
https://www.mozilla.org/en-US/firefox/organizations/
.
Google Chrome is not opening IPTV
The Chrome browser has discontinued support for Java, which is required to run IPTV. Please try watching IPTV using an alternative, free web browser called Firefox. You can safely download the Firefox browser directly from the publisher's website,
https://www.mozilla.org/en-US/firefox/organizations/
.